A Family's Legacy to Catholic Education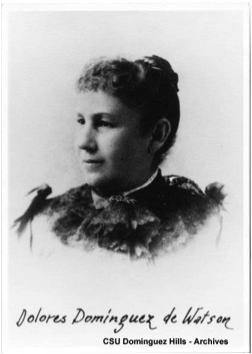 In 1784, the King of Spain granted Rancho San Pedro, an area comprising of nearly 75,000 acres in what is today southern Los Angeles County, to Juan Jose Dominguez for his long and faithful service as a soldier in the Spanish Colonial Army. In his role as a soldier, Dominguez spent many years protecting Junipero Serra and his Franciscan padres as they established a series of missions.
In 1826, Juan Jose Dominguez's descendent Manuel built the "Dominguez Rancho Adobe," a one-story, six room structure which he built for his wife and six daughters. Upon the death of Manuel Dominguez, the land was divided amongst his daughters, only three of whom had children, including Dolores Dominguez de Watson. In 1922, the family donated the home and seventeen surrounding acres to the Congregation of Sons of the Immaculate Heart of Mary, or the "Claretian Missionaries." The Claretians have since operated it as Dominguez Memorial Seminary, a school for candidates for the priesthood. In 1976, the adobe's six original rooms became a museum, with additional rooms later restored and opened to the public.
In addition to the gift of the Adobe to Catholic service, the Dominguez/Watson family continued to contribute generously to Catholic causes and Catholic education. In 1951, the Dominguez family provided a founding donation to help Saints Peter and Paul School re-locate to their present site at 706 Bay View Avenue in Wilmington, a few blocks from the church.
The Dominguez family legacy continues today through the efforts of the Huston family and Watson Land Company. Out of the holdings of Maria Dolores Dominguez, who in 1855 married James Alexander Watson, grew the beginnings of what is today Watson Land Company. Until the early 1960's the land held by the company was used for agriculture and oil production. In 1963, Watson Land Company, in order to protect and enhance the value of its holdings, began land development activities in response to the changing needs of business and industry in Southern California. Today, Watson Land Company is among Southern California's largest industrial developers.
Under the past leadership of William T. Huston, husband of Susana Dolores Watson and past Chairman of Watson Land Company for over 50 years, the company held a long-standing commitment to education, and in particular, Catholic education. Bill Huston, who passed away on March 9, 2011, was also a founding member of the Catholic Education Foundation and provided invaluable support during his many years on their Board of Directors.
Today, Watson Land Company's current Chairman Bob Huston and Board member Helen Huston Zieman continue the legacy of support to Catholic education. The Huston family members also continue their personal involvement and individual support of Catholic schools throughout the Archdiocese.
Saints Peter and Paul School thanks Watson Land Company and all the Huston family members who continue to offer vital support to our school and our mission.