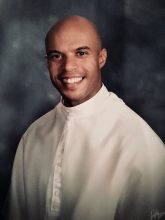 Welcome to Saints Peter and Paul Catholic School's website.
As the Pastor of Saints Peter and Paul School, it is my duty to work diligently with our school Rector, Father Anselm Rodriguez, and school Principal, Nancy Kuria, to make sure that your child will have every tool necessary for his or her success. Our goal is nothing short of shaping your child into a true disciple of Jesus Christ, in addition to preparing them for the future as a valuable and contributing member of society.
Through the practice of reason, religion, and loving kindness, we have created an atmosphere in which your children are offered the best in academics and extra-curricular activities, while being given the opportunity to participate in the sacraments of the church.
It is also my hope that, as you glance through these pages, you will notice that a primary reason that our school exists is to emphasize Jesus Christ and his teachings. Saints Peter and Paul is a Norbertine school, and as such our priests are in integral part of school life.
For over 70 years, our school has remained a powerful presence on Wilmington community, and we would love for you, your family and children, to be a part of our rich tradition.
In Christ,
Father Claude Williams, O. Praem.
Pastor
---
Read about our Parish History »